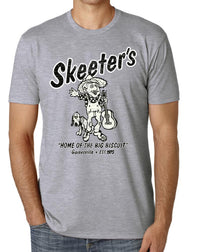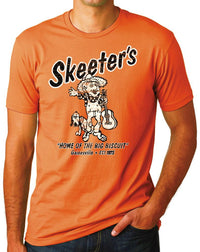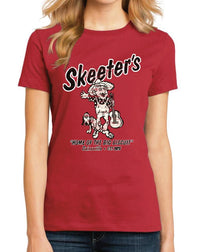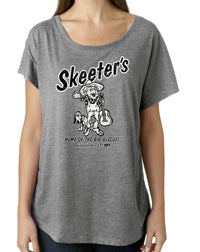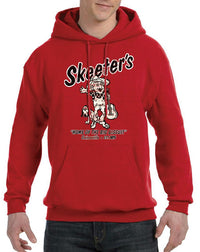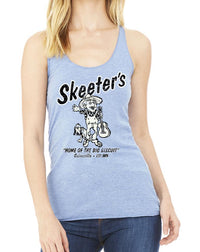 Skeeter's
Old-school saloon-keepers and diner owners are a dying breed. And when it comes to the history and the man behind 
Skeeter's Big Biscuits
 in Old Gainesville, you really can't make this stuff up folks. Asher "Skeeter" Sullivan opened the original Skeeter's on the edge of town on Hawthorne Rd in 1975. Record stores, bellbottoms and mustaches ruled the day back then. After a kitchen screw-up resulted in Frankenstein-sized biscuits, the gimmick was formed that would propel Skeeter's to the top of the campy-country-hangover-grub joints, and grateful college kids rewarded him with their loyalty. Soon needing a bigger spot, Sullivan moved the business to the vacant Walgreen's store on 13th Street, and added goofball entertainment and stayed open 24 hours. And while most patrons were too "impaired" to notice the sub-par food, the place sold tons of eggs, hash browns, sausage and more...and it was delicious as it was after midnight and greasy and perfect! After about 10 years or so, Asher sold Skeeter's and went on to open the uber-classy "Café Risque" off I-75 in Micanopy…which some would say was a fitting final chapter to an original Gainesville character and entrepreneur.
Exchanges
We want you to be totally happy with your selection! If you need to exchange for a different size, please call us at 305-290-2323, option 3, or just reach out through the MESSAGE US button below! We will arrange to ship out a different size providing you return the original(s) to us at: Long Lost Tees, P.O. Box 1834 Key West, FL 33041.
***Please notify us of a size exchange within 30 days of purchase! Thanks.