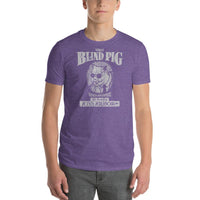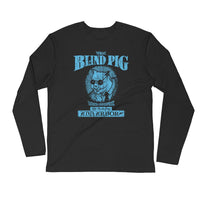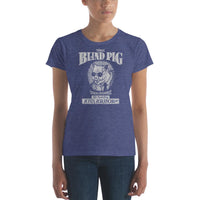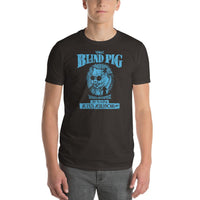 Blind Pig
The Blind Pig
 got its name from the after-hours club of the same name in Detroit the police raided and shut down a few years earlier, touching off the '67 Detroit Riots. It opened in 1972 in an old building west of downtown on 1st Str. With A2's first Italian espresso machine, the "Pig" not only helped open up AA to the evolving "coffee culture." After converting to a bar at night it began to host nationally renowned blues acts, drawing an eclectic crowd from the surrounding area. It became a showcase for musicians from Ann Arbor, Detroit and Chicago, and attracted blues legends like Boogie Woogie Red, Hound Dog Taylor and Roosevelt Sikes. The Pig of the '70s was a considerably different "joint" than the expanded version today, and this shirt's design features original early 70s art used on promotional posters around town.
Exchanges
We want you to be totally happy with your selection! If you need to exchange for a different size, please call us at 305-290-2323, option 3, or just reach out through the MESSAGE US button below! We will arrange to ship out a different size providing you return the original(s) to us at: Long Lost Tees, P.O. Box 1834 Key West, FL 33041.
***Please notify us of a size exchange within 30 days of purchase! Thanks.