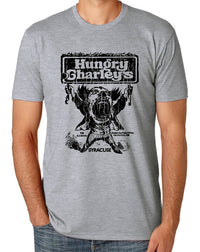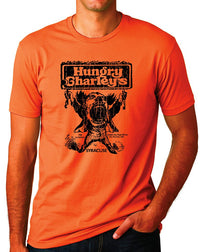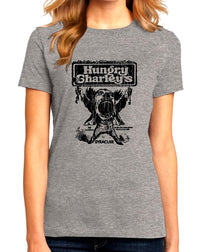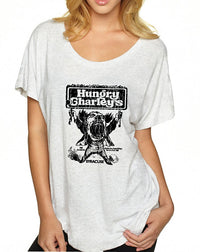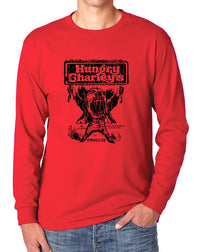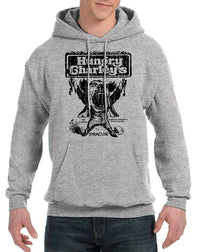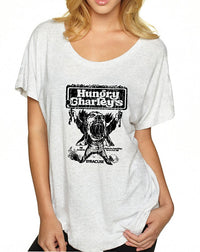 Hungry Charley's V2
Here's another look at the original, infamous character in all his big-mouthed, tiny-legged glory! FYI, the small print on the right says "Under the post office on the S.U. hill" (which you will be able to see when you order it!). There's another version if you just want to rock Chuck's handsome mug on another page, too. Here's a little history:
The original Hungry Charley's opened on the hill in 1970 was a classic rathskeller-style college bar, with dark lighting, low ceilings, heavy and uncomfortable wooden booths, and the constant clanging of pinball machines (it was the 70s, after all).  It was actually a franchise, as there were multiple Charley's in several college towns in the northeast at the time. The giant basement room where it all started in Syracuse was located directly below the location of Chuck's Cafe, which operated at 727 Crouse until the building was razed to make way for new development in 2017. The original Charley's closed for a while in the 1990s only to be revived 6 years later later as Hungry Chuck's with new owners. And with some of the same 1970s furniture from the original, but sadly without most of the artwork, including a painting of Jesus entering a bathtub (?)...many old timers remember the original, cavernous space and nickel beer night!
Exchanges
We want you to be totally happy with your selection! If you need to exchange for a different size, please call us at 305-290-2323, option 3, or just reach out through the MESSAGE US button below! We will arrange to ship out a different size providing you return the original(s) to us at: Long Lost Tees, P.O. Box 1834 Key West, FL 33041.
***Please notify us of a size exchange within 30 days of purchase! Thanks.