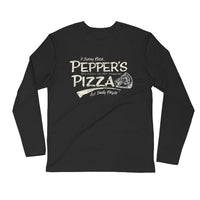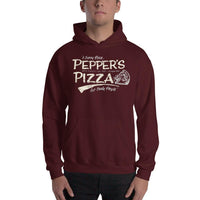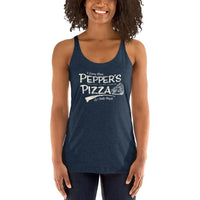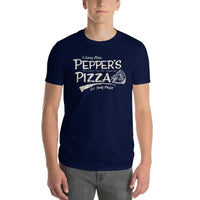 Pepper's Pizza
Celebrate the original, way-before-its-time hipster pie joint, Pepper's Pizza— the original "sunny place for shady people" — opened in 1987 on E. Franklin in Chapel Hill (in the space formerly occupied by School Kids Records). In fact, it was owner of School Kids and a partner who started Pepper's (one of the owner's nickname) when the music store moved into a bigger space. Staffed by unique folks in their own individual sense of style (purple hair, blond dreadlocks, army boots, etc), Pepper's was ahead of its time with off-beat toppings and locally-sourced meats and veggies. They were also famous for the large graffiti-covered wall and sign at the entrance that read "No Whiners."
Exchanges
We want you to be totally happy with your selection! If you need to exchange for a different size, please call us at 305-290-2323, option 3, or just reach out through the MESSAGE US button below! We will arrange to ship out a different size providing you return the original(s) to us at: Long Lost Tees, P.O. Box 1834 Key West, FL 33041.
***Please notify us of a size exchange within 30 days of purchase! Thanks.