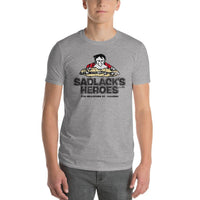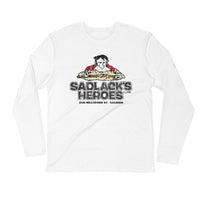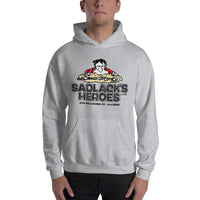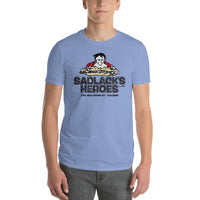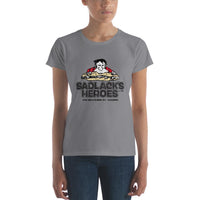 Sadlack's Heroes
When Sadlack's opened in 1974 in Raleigh, nobody knew it would usher in a 40-year run as, initially, a world-class deli with amazing sandwiches and cold beer, and then later a bar and live music venue (on the back patio!). Opened by Frank Sadlack and later run by Louis Antonucci, live music was added in 1987 or so, ushering in a new era at Sadlack's that would last until the end in 2013. It was, by those who knew it, as a very special place in the universe, where great conversations took place daily and lifelong friendships were made. And oh, the subs! It was said that Frank (and Louis) would rather close the place than serve day-old bread...EVER! And the folks who loved, laughed and lived at place for 40 years are real Sadlack Heroes!

Exchanges
We want you to be totally happy with your selection! If you need to exchange for a different size, please call us at 305-290-2323, option 3, or just reach out through the MESSAGE US button below! We will arrange to ship out a different size providing you return the original(s) to us at: Long Lost Tees, P.O. Box 1834 Key West, FL 33041.
***Please notify us of a size exchange within 30 days of purchase! Thanks.