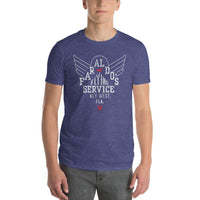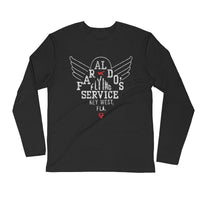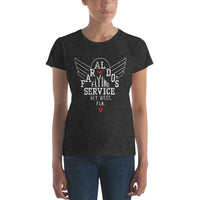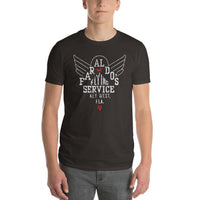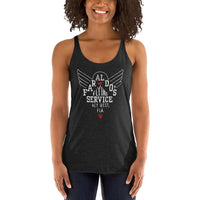 Faraldo's Flying Service
In 1945, just back from World War II, George Faraldo established Faraldo's Flying Service (the first FAA-approved flying school in the USA) in a quanset hut on a dusty parcel of land that is now the Key West International Airport. George was instrumental in obtaining the necessary papers to build a terminal at the airport, and in 1952 he was designated the county's first airport manager. Aerovias Q and the beloved Air Sunshine operated planes in and out of the new airport. During the Cuban Missile Crisis, the airport was used for military and civilian air traffic, and George diligently and skillfully filmed refugees arriving in Key West on homemade vessels. Today, the main (and only) roadway through the Key West Airport is named for him: Faraldo Circle.
Exchanges
We want you to be totally happy with your selection! If you need to exchange for a different size, please call us at 305-290-2323, option 3, or just reach out through the MESSAGE US button below! We will arrange to ship out a different size providing you return the original(s) to us at: Long Lost Tees, P.O. Box 1834 Key West, FL 33041.
***Please notify us of a size exchange within 30 days of purchase! Thanks.