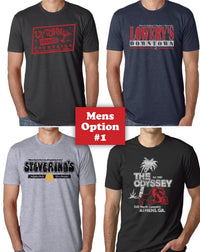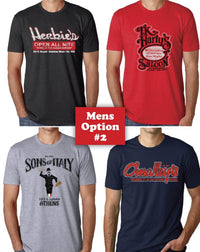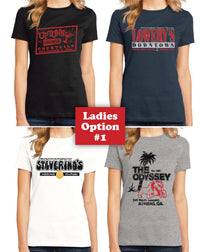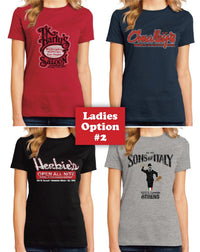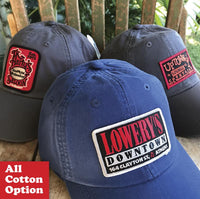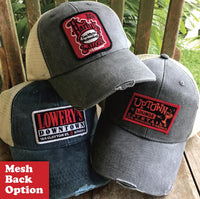 Bulldawg Bundle
Save $20 on the ultimate gift idea for your favorite, most-crazed Bulldog, U.G.A. or Athens fan. Expertly-curated with 8 of the most epic spots to ever grace the campus scene in Athens! Plus...all three currently-available vintage patch hats. This is THE BULLDAWG BOX you've been wanting. Guaranteed conversation-starters!

Mens or Ladies Option 1 Contains:
Tees: Uptown Lounge, Lowery's, Steverino's and The Odyssey.
Hats: T.K. Harty's, Uptown Lounge and Lowery's (in all-cotton or mesh-back)

Mens or Ladies Option 2 Contains:
Tees: Herbie's, T.K. Harty's, Sons of Italy and O'Malley's.
Hats: T.K. Harty's, Uptown Lounge and Lowery's (in all-cotton or mesh-back)

Choose from the Ladies-cut or Guys-cut tees, give us your size and your  preferred hat style (mesh-back or all cotton),  and we will take care of the rest!

The men's tees are very true to size, but if we had to offer any sizing guidance here, it would be that the ladies-cut tees DO tend to run a size small, so our advice for the ladies tees is to order a size up if you prefer your fit a little more relaxed. Please chat with us with any questions on sizing, fabric, etc.

Exchanges
We want you to be totally happy with your selection! If you need to exchange for a different size, please call us at 305-290-2323, option 3, or just reach out through the MESSAGE US button below! We will arrange to ship out a different size providing you return the original(s) to us at: Long Lost Tees, P.O. Box 1834 Key West, FL 33041.
***Please notify us of a size exchange within 30 days of purchase! Thanks.